Message from the Dean
Message from the Dean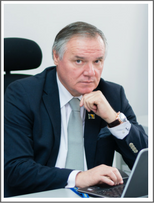 Dear friends,

In August 2015, School of Economics and Business of University of Sarajevo was granted the highest international recognition since its establishment in 1952: it entered the community of 5% best schools of economics and business in the world. It was granted the recognition by AACSB International (The Association to Advance Collegiate Schools of Business), the oldest international institution whose mission is to advance the quality of education in the area of business and economics. The  association was founded by US leading universities such as: Harvard, Yale, Berkeley, University of Chicago, University of Texas.
This great international recognition of institutional character was obtained for the School's overall work at present, as well as based on the operation plans for the forthcoming period. The recognition is also a great obligation for its future work. School has a clear mission and vision: "To become a prestigious higher-education institution in the area of economics and business science in the Southeast Europe by 2025.
 The School's existing capacities, particularly its teaching, research and professional staff, equipment and hard-working students, are a realistic basis for the further continued trend of good results. This also includes operation of all constituent parts of  the School: Business Academy, Institute, Faculty Development Centre, Students' Career Development Centre, Quality Office, Distance Learning Centre, Centre for Entrepreneurship and Knowledge Management, Business Advisory Board, Alumni   Association, and a number of technical offices and students' associations.
As the oldest, highest-quality and largest school of economics in Bosnia and Herzegovina, School of Economics and Business is aware of its public social responsibility. It participates in many local and international programs on a strategic, operational and daily basis and in this way proves its public justification.
In November 2015, a commencement ceremony took place for School students who graduated from bachelor or master programs in the 2014/2015 academic year. The following degrees were conferred: (a) according to the pre-Bologna system of studies: 37 master's degrees in economic sciences, 23 bachelor degrees in economics and 23 college-level degrees, and (b) according to the Bologna system of studies: 247 bachelor degrees for the first cycle of studies and 247 master's degrees for the second cycle of studies. A total 07 777 graduates. Dalila Mujarić was proclaimed the best student in the last academic year, with the average grade of 9.31. Dean's list of the best student in the 2014/2015 academic year includes the following students: Bašić Amna, Bećarević Lamija, Dautbegović Evelina, Hadžić Naida, Hodžić Lejla, Horozović Enela, Jurišić Gregor, Kurto Naida, Mujarić Dalila, Olovčić Adna, Pačariz Zerina, Ruvić Mersiha, Šahbaz Ilma, Šahinović Berina
Two doctoral dissertations were defended according to the pre-Bologna system of studies and six doctoral degrees were conferred for the third degree of studies (according to the Bologna system).
The international committee proclaimed the doctoral thesis by Kadić–Maglajlić Selma, senior teaching assistant at our School, defended at the Faculty of Economics of University of Ljubljana, as the best doctoral dissertation in Europe.  
The best book by School teachers in the past academic year was written by prof. dr. Fikret Čaušević. It is entitled "The Global Crisis of 2008 and Keynes`s General Theory", and was published by Springer, Cham-Heidelberg-New York, 2014. The blind review was made by Springer Briefs in Economics Editorial Board, Springer. The book's translation into Bosnian ("Globalna kriza 2008. i Keynesova opšta teorija") was published by our School in 2015. The book can be found in 400 best libraries world wide.
The past and current academic year will also be marked by a series of successful CEO conferences organized by the Centre for Entrepreneurship and knowledge management of our School. The conferences present, to students and public, success business stories: how a good business is developed. So far, the conferences have been held in: Mostar, Zenica, Tuzla, Banja Luka, Zagreb, Podgorica, Belgrade and Sarajevo. This is another way in which the School of Economics and Business of University of Sarajevo proves its leading position both in Bosnia and Herzegovina and in our surroundings.
Our students and all our employees are getting ready and want, through professional work, achieve continued ever better results
Dean
Prof. dr. sc. Kemal Kozarić